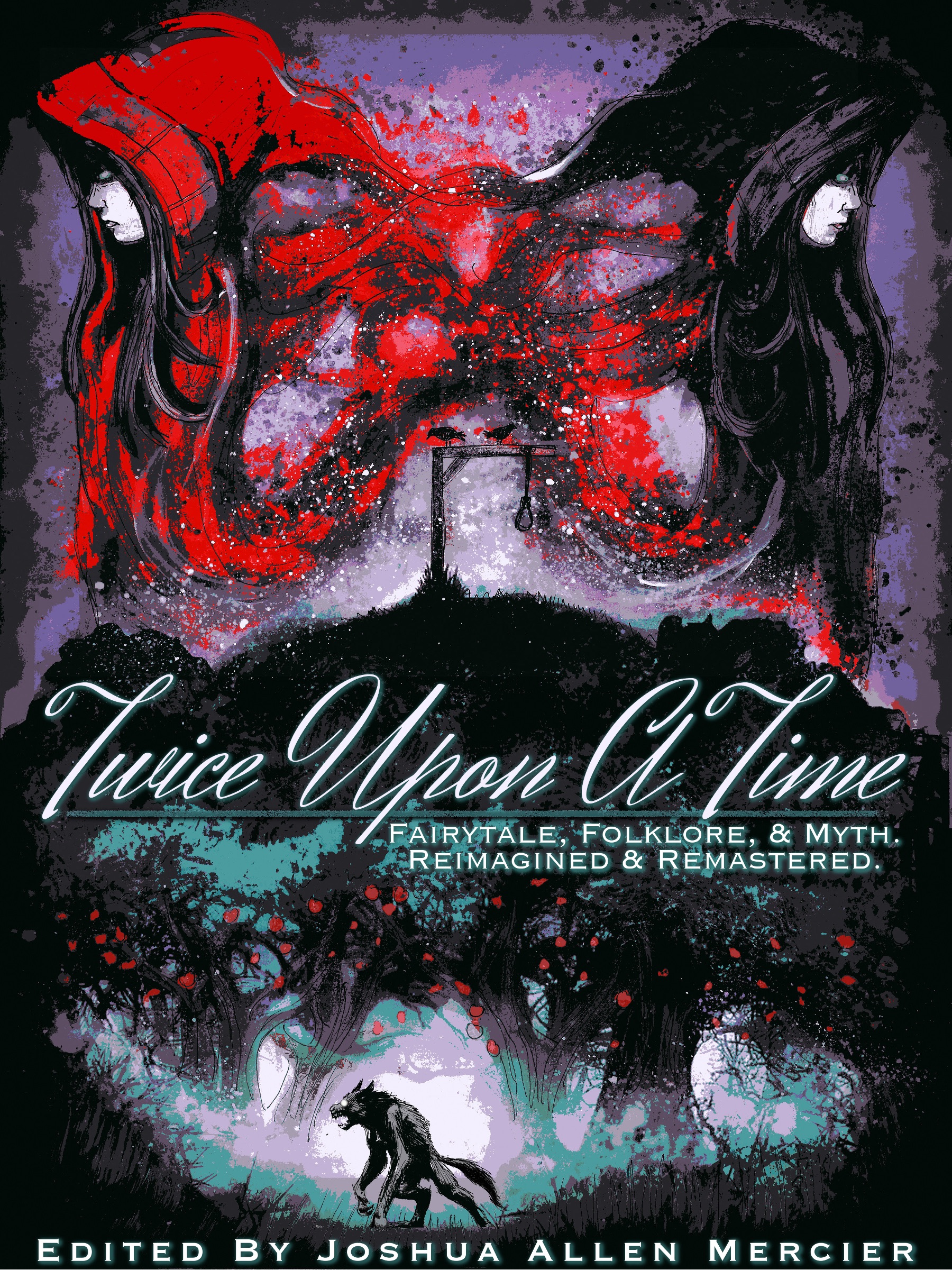 Title: Twice Upon a Time
Authors: Rick Chiantaretto, Bo Balder, AJ Bauers, Carina Bissett, Rose Blackthorn, S.M. Blooding, Richard Chizmar, Liz DeJesus, Court Ellyn, S.Q. Eries, Steven Anthony George, Dale W. Glaser, Jax Goss, K.R. Green, Kelly Hale, Kelly A. Harmon, Tonia Marie Harris, Brian T. Hodges, Tarran Jones, Jason Kimble, Shari L. Klase, Alethea Kontis, Hannah Lesniak, Wayne Ligon, RS McCoy, Joshua Allen Mercier, Robert D. Moores, Diana Murdock, Nick Nafpliotis, Elizabeth J. Norton, Bobbie Palmer, William Petersen, Rebekah Phillips, Asa Powers, Joe Powers, Brian Rathbone, Julianne Snow, Tracy Arthur Soldan, C.L. Stegall, Brian W. Taylor, Kenechi Udogu, Onser von Fullon, Deborah Walker, Angela Wallace, and Cynthia Ward.
Edited by: Joshua Allen Mercier
Genre: Dark Fantasy, Horror, Twisted Fairy Tales
Publication: January 14, 2015
Publisher: The Bearded Scribe Press LLC
Synopsis: Not all stories end happily ever after, and not all stories only happen once upon a time. Sometimes Beauty is the only hope to save the Beast—not from a curse, but something darker. Other times, there's a reason why Sleeping Beauty is slumbering—and waking her could quite possibly be the worst thing the Prince could have done…
Join Joshua Allen Mercier and The Bearded Scribe Press as they bring you on a whirlwind ride through fairytale and folklore, myth and majick. Treasured stories from your childhood are revisited and remastered into newly-treasured tales of hope and heartache, of adversity and adventure.

Tailored for the King
Eden was well-spoken for a seven-year-old peasant, but I suspected her clear diction and royal accent was a playful act. She even held out her pinky while pouring tea into two crown-shaped teacups that were laid out on my bed coverings.
She picked up her tea and blew on it as wisps of purple steam danced in her golden hair. The sunlight that streamed through a nearby window (hadn't I closed those damned curtains before bed?) lit her from behind. She looked soft and angelic.
I sat up, propped against the headboard. I reached for my cup.
"Careful, it's heavy," Eden's trilling voice echoed through my chambers.
"I am King, my child. Kings are always strong men," I smiled, pretending as though I was struggling to pick up the cup.
Eden's face twisted to a look halfway between expectation and the look my own daughter gave me when she knew I was lying to her. It caught me so off guard that my smile widened.
As a king, not many things caught me off-guard, but children always had their way.
My prepared expression was not so pretend when I actually struggled to pick up the cup. It wasn't only heavy, it was impossible to lift.
Eden's eyes brightened. "Maybe you aren't as strong as you think you are," she chuckled, picking up the cup and forcing it, along with the rest of her tea set, down the mouth of a small teddy bear.
The fact that I could actually see the bear swallowing the cups and pot seemed perfectly normal.
"What made you so strong?" I asked. "Stronger than a king?"
Eden's smile vanished and her gaze fell. Instead of answering, she pressed her light pink lips into a hard line, her rosy cheeks flushed.
"It is against the law not to be truthful with the king," I said gently, feeling an overload of anxiety.
Something wasn't right. Who was this child anyway?
"It was heavy when my daddy…" she stopped.
"When your daddy what?"
She didn't answer immediately but crawled toward me on the bed and wrapped her glowing arms around one of my royal pillows. She began to cry. "He took a pillow like this. I don't know why."
"Come now, child, don't cry. Let me fetch the nanny to dry your tears and get you something sweet."
Eden considered my offer. "You don't understand," she said. "It felt like this."
She lunged at me, the weight of the pillow on my face knocking me over.
Damn children. This was exactly why I hired nannies to play with my daughter. Sometimes they were too much to handle. I was not good at these games, and I pushed her off my body. At first, I was careful not to hurt her, but when she didn't move, I struggled harder. When I realized that I couldn't breathe with the pillow over my face, I screamed and thrashed. I clawed at the hands that held down the pillow. How was she so strong?
The pillow was as heavy as the teacup.